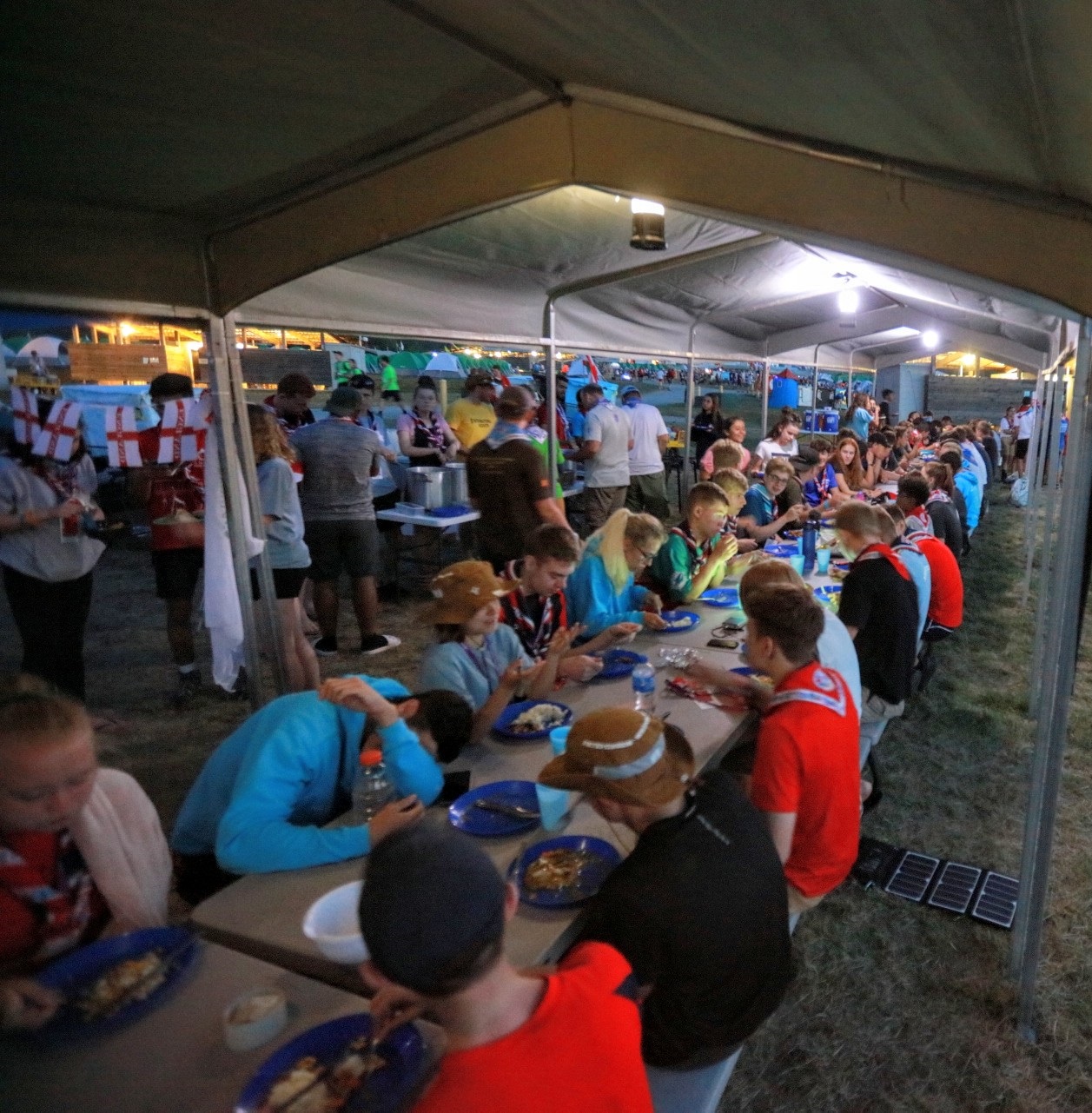 Scouts Combine Campsites for Community Dinner
Usually dinner is a moment that each troop at World Scout Jamboree spends together in its own campsite. On Sunday evening, however, many Scouts in Base Camp D2 combined their campsites for a community dinner.
Those walking up the trail seemed surprised to see 26 tables lined up end-to-end with 150 Scouts and leaders from seven countries sharing dinner and conversation. Each troop had prepared a dish and all sampled food from each of the seven troops.
The idea started with Jack Mattson, 3rd assistant Scoutmaster with a troop from the Southern U.S. state of Texas. "In Japan in 2015, we were hanging out and invited friends from Brazil to eat with us. We moved tables to the trail and even more joined us then. I thought maybe we could try it here," he explained.
"It's fun to look down the table and see all the people," said Isabella Watkins, a Scout from Wales, which is west of England. The Scouts and leaders were from the United States, United Kingdom (Suffolk and Wales), Hong Kong, Taiwan, Denmark and Finland. "It's been really good," added Benjamin Edwards, also from Wales. "Most are making friends, sharing genuine conversations," said U.S. leader Randall Goltzman.
"We usually don't do this," said Abigail Cox, a leader of the U.K. troop from Suffolk. But the idea is not exactly new at major Scouting events. "We did something like this at NorJam in 2014," said Jonathan Hands, leader of the U.K. troop from Wales.
The dinner seemed natural considering how Scouts in the sub camp are already spending so much time with those from other contingents. "To be fair, our kids are already together," said Cox. "One American, I think I've feed him lunch twice." The dinner ended with 35 Scouts trying to learn a new dance together in the dust of the trail.
"This is even better than I hoped for," said Mattson.
This page is also available in: EspañolFrançais

Print This Post