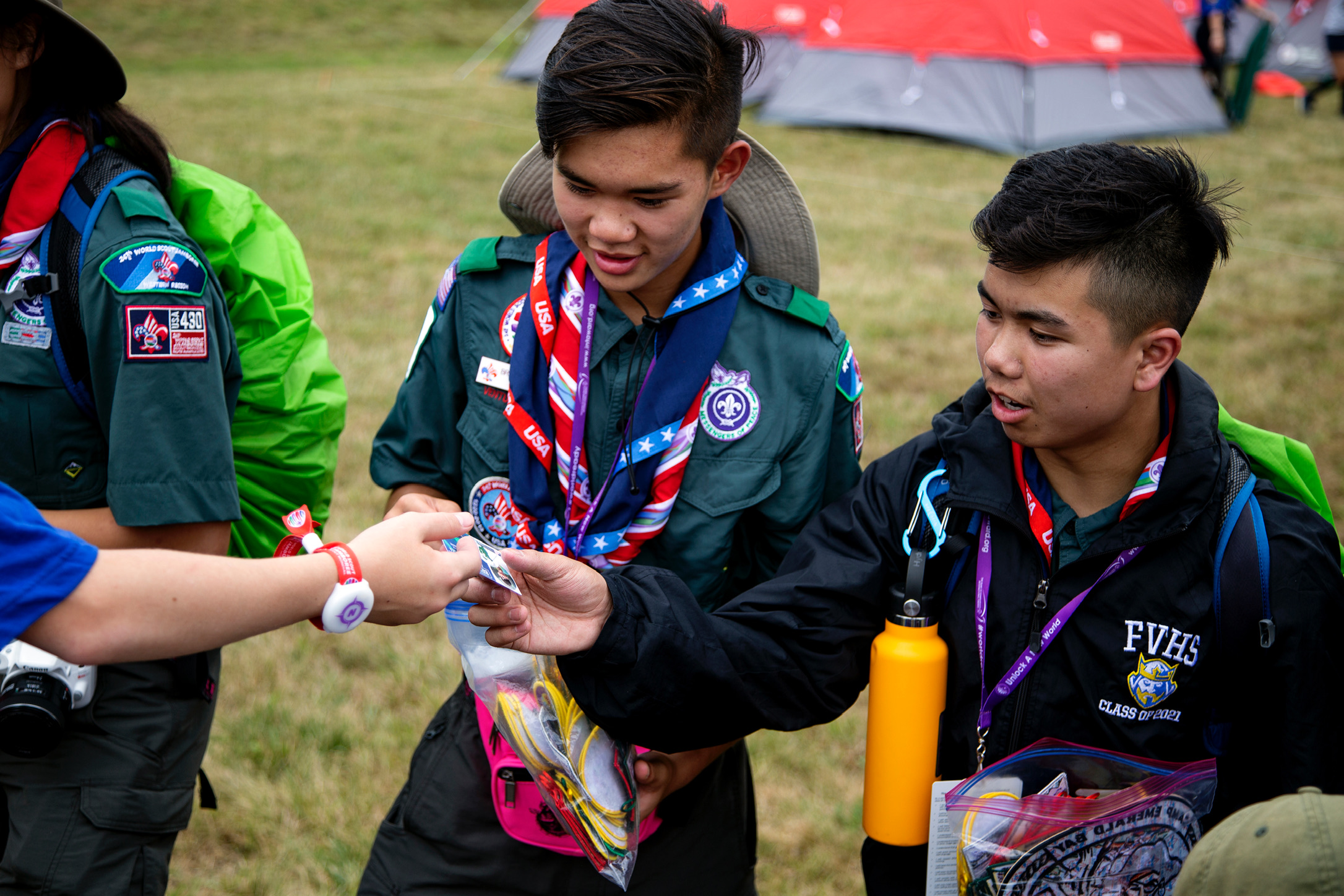 Hot or Not: Top trading tips at the 24th World Scout Jamboree!
Trading Scouting patches or badges has always been a popular activity at international Scouting events. Although the origins are unknown, the history of patch trading dates back to the early 1940s. When Scouting began, there were limited badges available other than the official rank and merit badges. As international events rose in popularity, scouts started to custom make patches for special events. Today, Scouts trade all items possible including official uniform, Scouting t-shirts, backpacks, hats and even water bottles!
By day two of this Jamboree, participants were already spotted walking around with items from a different contingent. A lot of United Kingdom Scouts have managed to get their hands on the famous Osprey bags from the Boy Scouts of America contingent (why the BSA traded them, I do not know!). The bright Australian contingent items can be seen dotted around all unit sub camps; no one seems to have the neckers they started with! However, with over 45,000 scouts from 152 countries, it is a challenge to figure out what you should trade, especially if you only have one contingent necker to trade.
With that in mind, I have been around site asking Scouts what items are most desired. Here is what I have found out:
Neckers
One of the most iconic neckers comes from the Irish contingent. They have an amazing design featuring the Celtic knot. The Mexican contingent necker is equally as nice; if you unroll it there is the complete Mayan calendar in silver on the back. Finally, the Swiss contingent necker contains the different coats of arms of Sweden. If you get time, ask a Swiss Scout about the meaning of it all. Whatever you do, do not ask them why Jesus is on their items – it is William Tell, and asking will guarantee a 'no trade' deal.
Backpacks
There are a lot of different backpack designs at the Jamboree this year. One of the favorites, although the least practical for the Jamboree, is the Swedish contingent backpack which come in blue or yellow. They will probably only fit a water bottle and a jacket, but if you value fashion over usability, then this is the trade for you! For a more practical trade, the United Kingdom backpack is better, they are large and perfect for day hiking. To top it off, It has a neat design featuring the new United Kingdom Scouts branding and the famous tea bear. Finally, the American Osprey bags are popular, as they always are at international Scouting events.


Clothing
By far the most popular clothing trade seems to be the Australian contingent shirts. They are yellow and green and look like rugby shirts. The shirt was already spotted on day one, worn by a United Kingdom participant who traded it for her tea bear shirt (which is also in high demand). If you prefer items with Scouting history, the t-shirts from the Czech Republic contingent have been cleverly designed with a timeline of Scouting. You can even get different tops that include a more detailed description of different dates in history. The Canadian contingent water proof jackets are also amazing; the simple design is extremely effective. You can spot a Canadian in the rain from a mile away!
So there you have it, the low down on the hottest trading items! But let me give you some food for thought. Why trade your items just for the sake of it? Why not instead set out to trade items in a way that creates memories.
Make an international friend for life and trade something with them rather than a stranger. Or even better, use your Jamboree time to trade memories; make a story to take back to share with Scouts in your home country, one that you will remember for the rest of your life. You could even share your experiences with the world whilst here at the Jamboree by visiting the Young Correspondents team and writing an article to send to the media teams.
So for the last week at the Summit Betchel, I challenge you to trade Jamboree memories and not just Jamboree items. Collect stories, not patches!
This page is also available in: EspañolFrançais

Print This Post