Faces at the Jamboree
We went around the camp and spoke to scouts having a break in the shade, and we asked them about their Jamboree-experience.
It is yet another hot day at the Jamboree-site. A big portion of people have found their way to the NSO-tents, and a lot have found a spot in the shade. Just sitting, relaxing and experiencing the atmosphere of the camp.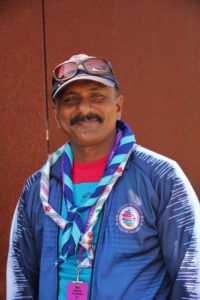 At first we strike of a conversation with Bino Mathew Parakuam. He is 44 years old IST, and from India, from the Overseas unit of Saudi-Arabia. His first Jamboree was in Japan, this is his second.
"It is amazing to see all these scouts and guides working together without any issues. There is so much peace and harmony here. And people are so polite to us," he says and laughs: "And the vehicles do not honk. People stop for the cars, and the cars stop for the people. That is amazing for us!" Bino is planning on attending 2-3 more World Scout Jamborees in his lifetime if he stays healthy.
Shortly after we meet Michael B. from Alabama, USA. He is 17 years old and a participant. He has only participated in National Jamborees before this one. "I though it was a great experience to meet other people and other countries. I have never been outside the USA, so this is my biggest change to meet so many different cultures," he says.
He has gotten friends from both Italy, Brazil and Great Britain. And when we asked him what the best experience has been so far at the Jamboree, he said: "Eating with the different contingents is the biggest experience. I for instance had this amazing dish from Australia – but I do not remember the name of it." Michael tells us that he has been inspired by other countries way of doing scouting, and he is dreaming of going as a leader to the Jamboree in South Korea.
Next to the displayed birds in cages we meet Fien (the girl standing on the right side of the photo). She is 15 years old and from Belgium, and she cannot choose one thing as the best experience at the Jamboree. "The Cultural Day was a lot of fun tasting different foods from different countries. Also the scuba diving was really fun. But the mountain biking was in fact a little bit scary. I also loved the shows. I was super excited throughout the entire show," she says and tells us that she has gotten friends from Oman and Portugal.
Fien is planning on joining the European Jamboree in Poland next year, and if she can afford it, she would love to go as a leader to the Jamboree in South Korea.
Afterwards we meet Lotta. She is from Finland (but is wearing an American cap), and she is 15 years old.
"It's been really great. I will remember this experience for the rest of my life. I have met a lot of people from all over the world. That has been the absolutely best experience," she says and tells us that she now have friends from both Switzerland and the USA.
"It would be amazing for me to go to another again to another Jamboree. I do not know what I want to do at the next Jamboree – I just want to meet a lot of people. But I will try to get my little sister to come with me. This time she is too young. But the next time she will be old enough," says Lotta.
The next World Scout Jamboree is in South Korea. Therefore we move around to find a person from South Korea to speak to. That is when we meet Yeon Ju Oh. She is 21 years old, and she is actually a member of the planning team of the next World Scout Jamboree. "This is a totally different experience. And an excellent experience on how a Jamboree works. One of the most fantastic experiences here was the opening show with the drones. I have never seen anything like that before," she says and tells us that the diversity with the different program-choices also is amazing.
"If I have the time, money and the change I would love to attend more Jamborees. I love Jamborees!" she says, and explains that she will of course attend the next World Scout Jamboree in South Korea.
After speaking to Yeon, we meet a participant from Malta. His name is Nathan, and he is 17 years old. "This is a once in a lifetime experience. That is why I came. You only get the change once to be a participant at a World Scout Jamboree. But I would for sure love to go again on an international Jamboree," he says and tells us that he also always wanted to go and visit the USA.
When asked which experience at the camp has been the best, he answers: "It is when everyone is in front of the stage – united together. It feels like we are united as a family in one place at the same time," says Nathan. So far he has gotten friends from The Netherlands, India, Brazil and Mexico.
This page is also available in: EspañolFrançais

Print This Post