Dinner with the Romanians
Today my friend Éabha and I were hosted by the Romanian troop and their Global Ambassador, Andrei, for dinner.
Even though we were late arriving, Éabha and I recieved a lovely, warm welcome from all of the Romanian troop members. We were brought inside the camp and were introduced to everyone.
Since today was Culture Day, the troop had some typical aspects of their culture set up that we got to try out. We tried a typical Romanian dish called Coliva, which is made up of walnuts, cinnamon, sugar and a few other things. It was delicous. We then learned how to make a mini lantern like figurines from paper, oragami style. We spoke about topics from the Irish Potato Famine to Transylvania and Dracula. I was amazed by how well everyone spoke English and it inspired me to make more effort in learning languages at home.
For dinner we had burgers. Andrei made sure Éabha and I were served first and his Scouter explained to us in great detail the order in which the burgers would be prepared, starting with the bun, moving to onions, ketchup, burger, cheese, omelette, THEN mustard. Eabha and I were quite hungry and as we sat down, began to tuck into our burgers. One member of the Romanian troop came and told us discreetly that they typically wait until everyone is at the table to start eating. Eabha and I went bright red with embarrassment, thinking that we had offended the troops home culture, and quickly set our down our food. Thirty seconds later another Romanian scout began to eat his burger, then another, and so on. We laughed, thinking that we had greatly offended them but it turns out that everyone was just eager to get eating.
We listened to music while we ate and taught everyone in the troop some Irish phrases. The typical 'Póg mo thóin' agus 'Sláinte'. While learning some Romanian ones aswell.
The best part about this evening for me was listening to the Romanian troop's chant in their language. Although we didn't understand the words, we understood that this was tradition, and were eager to embrace it! It brought such a happy atmosphere to dinner and we arrived home in a fantastic mood. Looking forward to trading some neckers with them soon!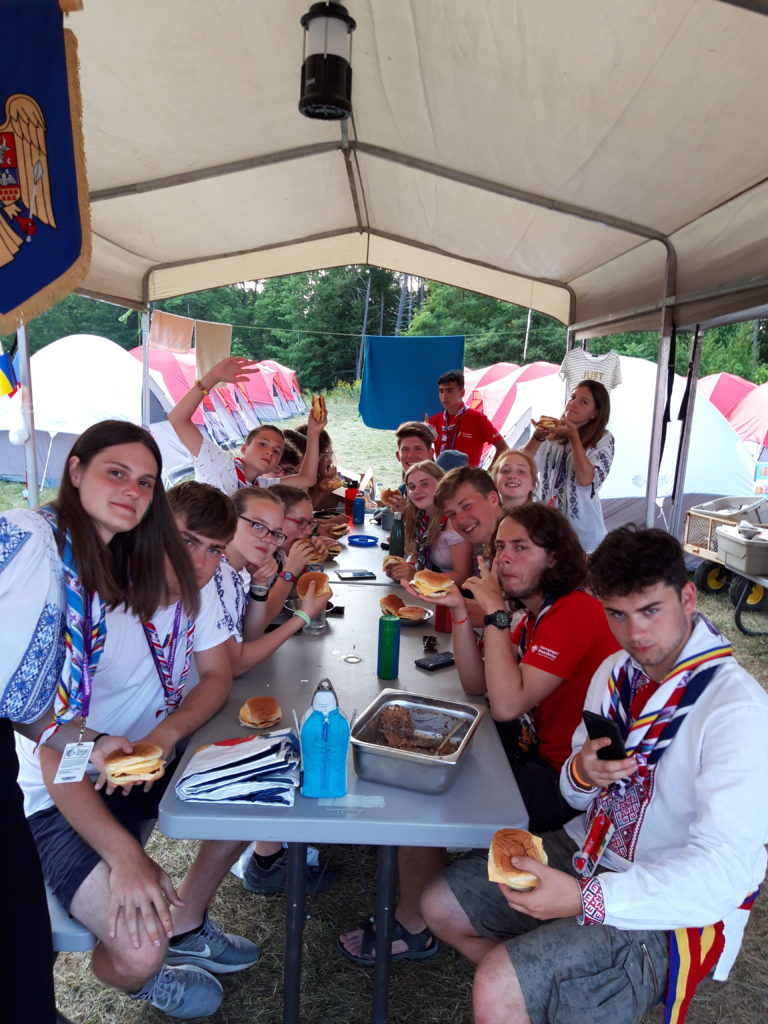 Print This Post