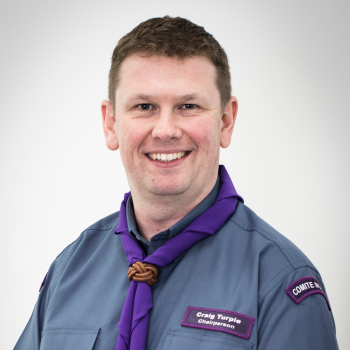 Craig Turpie: Chairman, WOSM
Craig Turpie first got involved in Scouting by joining his local Cub Scout Pack in 1983 and followed the youth program through, achieving both the Queen's Scout Award and Explorer Belt. He became Assistant Area Commissioner for Venture Scouts in Edinburgh, and later the first Area Scout Network Commissioner for Edinburgh. It was at this point that Turpie first became involved with the Scottish Headquarters and UK Headquarters in a number of different roles.
Turpie was a member of The Scout Association's International Team between 2001 and 2007. He rejoined that team in 2013 for a brief stint as Deputy International Commissioner. Turpie was appointed UK Commissioner for Program on 1 April 2014. He held the role until elected chair of the World Scout Committee in 2017.
Then UK Chief Commissioner, Wayne Bulpitt, who appointed Turpie to the program role, said "I'm delighted that Craig has joined our UK leadership team. We will benefit from his extensive experience and talents as we further develop our youth program and the support given to leaders delivering it, both of which we know are key to our continued success."
While at dinner on Monday 22 July 2019, the communications team had a chance to sit down with Craig and hear some of his thoughts about the current and past World Scout Jamborees.
Q: What is your favorite part about a Jamboree such as this one?
A: I think one of the most important parts of the jamboree is the sub-camp life. There are some amazing activities being put on at a world scout jamboree – you see the zip wires, the aquatic activities etc., but seeing scouts in the sub camps cooking food, inviting friends that they have met from other countries for dinner, all of that is where the real magic of scouting comes to life, and barriers get broken down.
Q: Can you share with us any particularly great experiences you've had at a world scout jamboree?
A: Too many! I remember the first world scout jamboree I went to in 1991 in Korea, I was super excited about that. You've got to remember there was no social media back then, so nobody was sharing anything anywhere, because these media platforms didn't exist, so the excitement was great. I remember the morning after arriving at the site, seeing the sun rise over the Seoraksan mountains and looking around at the neighbors from Indonesia, Norway, Japan, Korea and just thinking 'this is amazing!' What other organization provides opportunities like this for young people?
This page is also available in: EspañolFrançais

Print This Post